On the eve of 30 December of 2013, Um Mouhamed rushed to her children's room with her eyes frightened and full of tears as her husband told her that they have to leave their home to a safer place.  

The mother carried her children with some clothes and food, and left her house in Mleha -Rural Damascus, looking for a safe place in Kafer Batna town, 8 Km away from Mleha.  

The weather was so cold, stormy and rainy. "Mom! Mom! It is so cold! So cold!" cried her little son Mouhamed with faint scared voice.      

The family could hardly find one room in Kafer Batna. They had to live there. "On that day, all memories flashed back in my head. Memories of my childhood, my children and every single corner of my house were present in my mind," said Um Mouhamed recalling her first five minutes at her new safe place.

Fateful accident made it worse
One day, after a while of that relocation, she heard screams of children and relatives resonating outside.  The voices said "Abo-Mouhamed's leg is cut!". Her husband lost his leg! She didn't run or cry to the unbelievable shocking news as she fell unconscious.
When she opened her eyes, she recognized the relatives around her and heard the grandfather saying "Your husband is still alive, thank God." The old man turned his head aside to hide his eyes that were full of tears.
Back to home
She seemed scared to remember the day when she returned home. "The whole area changed. I didn't believe that this is the same place where I have ever lived in. But seeing my friends and neighbors confirmed the reality."
Um Mouhamed and Her Neighbor Um Shadi
According to the needs assessment conducted by the Syrian Arab Red crescent conducted in Mleha, Um Muhamed and her neighbour Um Shadi were among the most vulnerable people who met the food voucher project's selection criteria.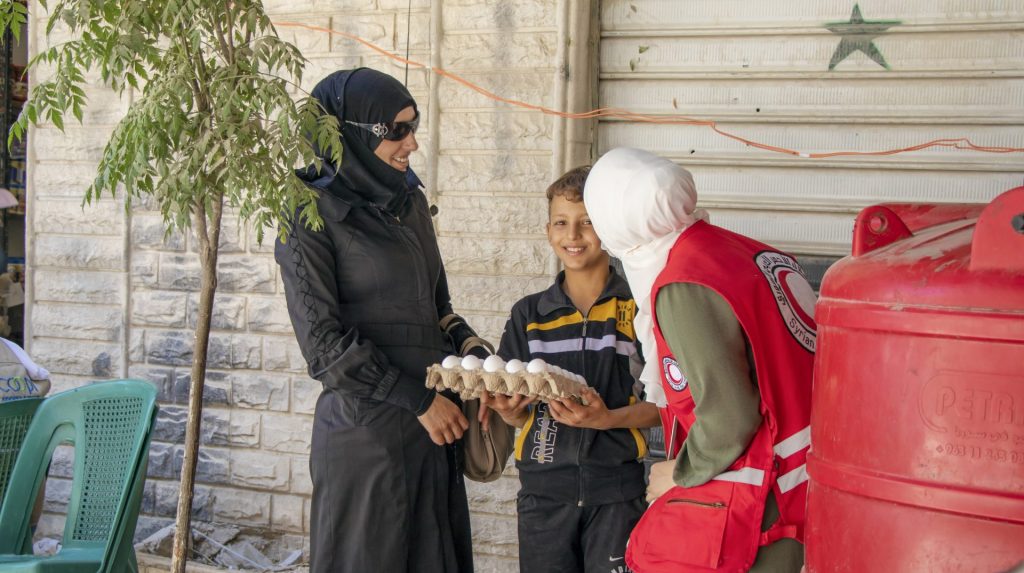 The food vouchers project
The food vouchers project is dedicated by SARC to ensure the food security for the families in need. The due families received food vouches each two months and for 8 months. In Mleha, the project targeted 100 vulnerable families  with the support of COOPI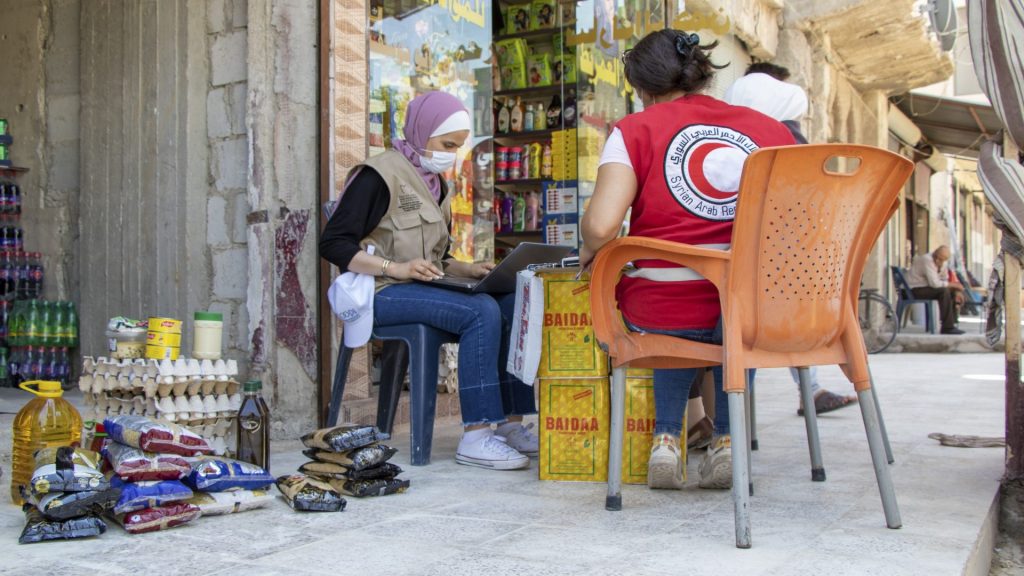 Kitchens of Um Mouhamed and Um Shadi are reeking of delicious cooked food again thanks to the food vouchers by SARC that enabled them to buy the basic items of food from specific shops.
The Selection mechanism
One hundred families were targeted by the project based on the following set of criteria:
women breadwinners (widows, divorced… etc.).
People with disabilities.
elderly people.
People with chronic diseases (cancer, etc…).
People Who are not enlisted in other livelihood grants.
People Who are not enlisted in any other vouchers.
About the SARC
The Syrian Arab Red Crescent is an independent humanitarian organization of public utility, and it's permanent and continuous, and it has a legal entity and enjoys financial and administrative independence.