Explosive war remnants pose a areal threat to civilians in conflict and border areas.

Therefore, 477 awareness sessions were implemented by SARC volunteers during the first half of 2021 in Swaida.

The sessions fall within the annual program of activities designed by Risk Education team in partnership with ICRC.
Assessment rounds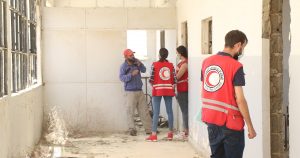 The volunteers began with initial assessments that were undertaken in 27 villages during the last six months, they then identified the types of activities to be held depending on age categories.The numbers of people who benefited from these activities were 2835 children, 1501 women, and 1725 men.
Various activities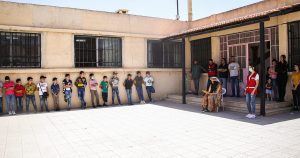 The activities used by the volunteers to convey awareness messages vary widely depending upon the different backgrounds of people in different areas, and they include physical games, paintings and drawings, theater shows, and story-telling for children. However, all activities carried the same key messages
Do not come close….Do not touch….Report
Materials distribution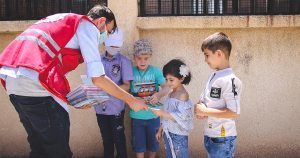 3399 educational materials were distributed during the last six months including sketchbooks and color pens, story books for children, and brochures that contain safety tips.
Supporting the affected people
In order to promote respect for the rights of those affected by war remnants in mine-contaminated areas, and encourage all individuals in society to take their part in supporting them, the volunteers make an assessment of their needs and refer them appropriately to other services provided by the Syrian Arab Red Crescent such as the health clinics, psychological support, and relief services.The assisted cases numbered 19.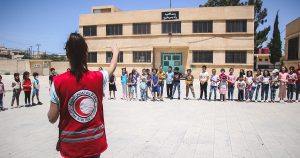 Awareness sessions are ongoing throughout the year by SARC volunteers; with the support of the International Committee of the Red Cross.