During two months of consistent training along with psychological awareness and educational sessions, new ideas and concepts were introduced by the volunteers to 515 people in Al-Tayba village, which helped them gain various skills in accordance with the following programs
Women Empowerment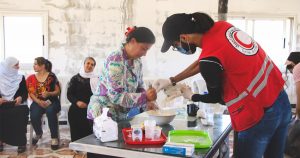 Knowing that women's self-sufficiency is an essential factor in alleviating their burdens of life and keeping up with its increasing expenses, the volunteers are keen to design vocational training programs and handicrafts courses for women.
55 women attended the training in Al-Tayba which included the following axes:
1- Wooden and plastic loom knitting
2- Decoration and accessory making
3- Soap making and shaping
4-Cooking and sweets making
As well as teaching the principles of marketing and product display throughout the sessions.
Caregivers Program
32 women attended the caregivers integrated program, where they were trained about providing care for their parents, strengthening the communication with them, and self-care, in addition to learning how to take care of children and protect them from potential dangers. The program also covers the relations and communication patterns between the parents and between them and their children.
Life skills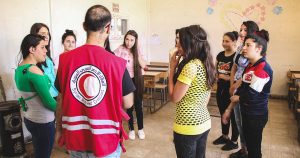 Life skills program is unique among other programs as it provides guided activities for children within the child resilience program, and also for adolescents in order to enhance their role in society, and the benefited adolescents amounted to 91, the program aims to maintain psychological health given the essential role it has in facing life difficulties.
Also semi-guided activities were carried out for children up to the age 9, and the benefited children amounted to 136.
Remedial Lessons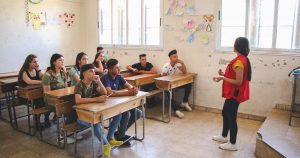 Remedial classes were attended by 221 students of all age groups, and lessons on Arabic-English-French and math subjects were presented by the volunteers. Also comprehensive remedial lessons were presented to the ninth grade and baccalaureate students.
Awareness Sessions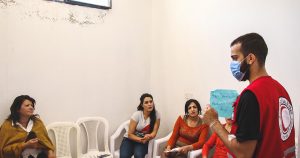 315 people of all age groups benefited from the sessions held by the volunteers, in which various issues were addressed such as violence and protection against bullying and discrimination, in addition to raising people's awareness about remnants of crisis.
Supported by the International Committee of the Red Cross, the volunteers continue the spreading of new principles and ideas that develop people's skills and strengthen their practical experience.