The track where the horse race was held becomes a turning point for raising awareness. Even though the victorious will be awarded, yet thousands of people will get the correct information to avoid the risks of mines through the banners hanging on the track's sides organized by the Syrian Arab Red Crescent in the countryside of Hama.
Raising awareness is the cornerstone in confronting the risks of mines
On the road heading to the race track, all visitors pass a number of paintings and educational aids to know more about the remnants of war, its risks, forms, and ways of correct behavior when encountering them, which are suitable for all people, from the young to the elderly.
Unforgettable Day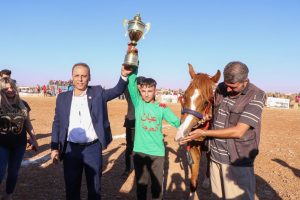 On Friday 16th of September, in the early morning hours, a huge convoy of the Syrian Arab Red Crescent headed towards the eastern desert of Hama to organize the festival, which included more than 150 volunteers, headed by Mr. Abdel Rahim Rahhal, head of the Red Crescent in Hama. The volunteers work hand in hand to achieve the ultimate goal, which is "raising awareness to save lives." The Volunteers were distributed among a number of organizing committees, and after well- prepared preparations, the competition started, which ended with the crowning of three winners. This was followed by the implementation of the children's folk dance and other recreational activities.
The Festival in Brief
 The festival of Arabian horses is held annually in Berri Sharqi in the countryside of Salamiyah to the far east of Hama, which was held this year in its fifth season and highlighted by media.