Yousra, a 50 years old woman living with her family in Shaqqa village in the northern countryside of Swaida governorate, her family thinks of her as their source of hope, and she considers them the eyes she sees through.
She met the physiotherapy team of the Syrian Arab Red Crescent after long years of illness and suffering, and after the meeting her life changed for the better.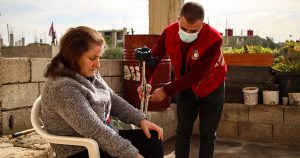 Unsuccessful surgeries
Yousra was born on 1970, and didn't receive all the needed vaccines in her childhood, the thing that led to severe health complications, and she had polio when she was one and a half years old.
Later, she had several surgeries to correct the right lower limb deformity, but all were "useless", she said.
The feeling of loss aggravated her health condition
Over the years, Yousra also got diabetes, and the disease was under control until she lost both her father and her brother within a short period of time, and as a result of the increase in blood sugar, she lost her sight.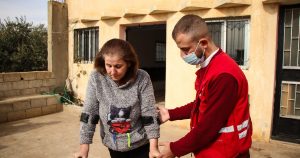 Expensive treatments but unsuccessful results
After losing her sight, Yousra's health deteriorated, and she couldn't do the activities of her daily life, but nonetheless, she continued her physiotherapy treatment for three years at her own expense.
"In 2015, I was paying for my physical therapy sessions from a loan I took from the bank, hoping that I pay it back after my recovery, but I didn't get the results I was hoping for", she described her condition over many years of suffering.
A notable improvement and a renewed hope
On 2019, Yousra met the volunteers of SARC's physiotherapy team, who came to check on her condition.The doctor diagnosed her and recommended the appropriate physical therapy for her.
After 8 sessions of therapy, and continuous follow-up, her health situation improved, and she started walking small steps with a cane, and with consistent hope and determination, she was able to regain the ability to perform her daily activities.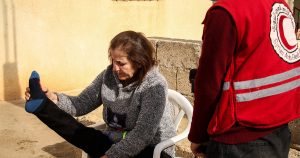 Yousra considers SARC's volunteers to be her treatment journey friends, and that through their efforts she was able to restore her mobility. Today she plans to have an eye surgery, so she could see again, as she could walk.